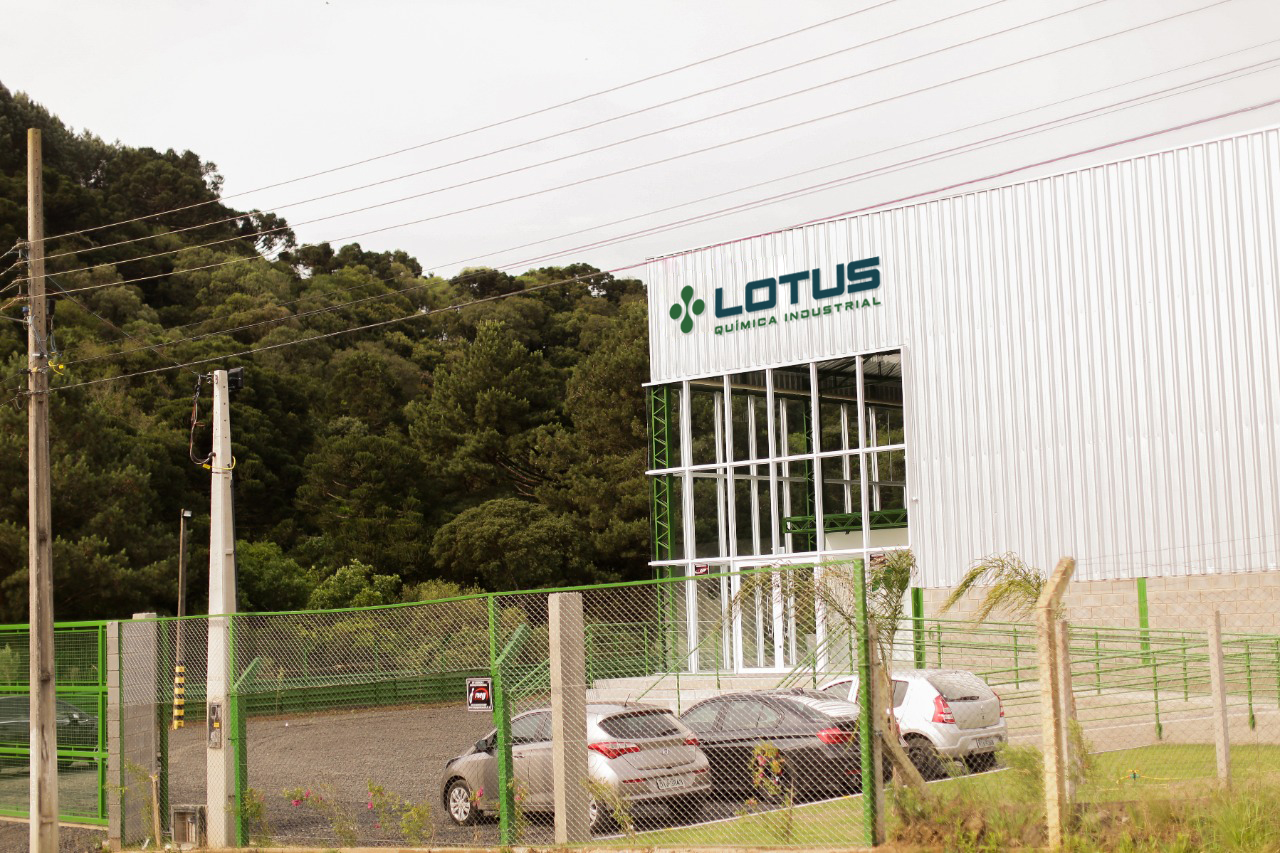 What moves us forward
We are Lotus Química
We are Lotus Química, an agile and lean company, focused on developing biodegradable chemical solutions for the pulp and paper industry throughout Brazil and Latin America.
What moves us forward
What makes us different
in the market:
Environmental responsibility and innovation to take the paper industry to an even greater level are what have driven us for more than 20 years. With a manufacturing plant in the city of Lages/SC, Brazil, we work on developing antifouling, dispersants, breakdown aids, retention and drainage, among others. Most of our solutions are biodegradable, Ph Neutral and non-toxic. In this way, they are completely safe both for those who handle them and for the environment. As a result, we deliver:
Unprecedented quality of paper
Drastic reduction in paper manufacturing costs
More efficiency of industrial assets, protecting your machine clothing
Environmental responsibility
What moves us forward
Environmental responsibility
From the installation of the factory that preserves native forest around, the composition of the products and its manufacturing processes, to the logistical operation with its fleet and containers, all company areas are committed to the health of the planet.
Tulio Lima
Founder and Executive Director
With over 20 years of experience in the chemical industry focused on the paper sector, Tulio Lima began his career in multinational giants. Holding a bachelor's in business administration, he is always restless and curious about the challenges and future of the paper industry amidst the digital transformation. In the early 2000s, he decided to found Lotus Química and make history by bringing more quality and efficiency to paper-producing companies of all sizes.
Juliana Paes
Marketing and Communication Director
A professional with a diverse repertoire, Juliana sailed across different oceans. She has a Master's degree in International Law from UFSC and has been a university professor until today. She was engaged for many years in fashion retail and run her luxury event production business. She's a papermaker's daughter and the paper industry has always been on her routine and history. In 2020 Juliana joined the Marketing and Communication area at Lotus with the challenge of enhancing communication channels with customers and the market.
José Luiz Tomaz
Technical Sales and Customer Relationship Leader - Paraná
Specialist in the production of brown paper, José spent more than half of his career managing a paper production plant from chips. For nearly 10 years he has been the leader in technical sales and customer relationship in Paraná state, south of Brazil. With an academic background in Business Management, currently José Luiz is the sales champion and has in his resume records and cases of success achieved with his long-time clients.
Juarez Zanluca
Technical Sales and Customer Relationship Leader – Santa Catarina
Specialist in the production of tissue paper, Juarez is the newest brand hire. With a brilliant career in leading paper mills, Juarez currently works focused on technically supporting the industry from Santa Catarina state, south of Brazil. With a technical background in pulp and paper, manufacturing management and health & safety, he is currently working on an MBA in Production Engineering.
Ana Luisa Alano Ramos
Office Manager
Graduated in Management Processes and with 10 years of experience in retail, events and sales management, Ana Luisa has been working at Lotus for 3 years. Responsible for all the administrative routines of the company, she is an expert in making the backstage of Lotus Química flow so that partners, suppliers and customers have their expectations surpassed daily.
Marcus Vinícius de Lima
Chemical Technician
Despite being a professional with a technical profile, Vinicius started his career in the commercial area and is still passionate about solving customer problems. After 5 years in the sales area and with a technical background in Chemistry, he plunged headlong into chemical and physical laboratories eight years ago, having even managed quality processes and one of the largest companies in the chemical sector in Brazil. Currently, in addition to taking a Degree in Chemistry, Vinícius signs up as the technical responsible for Lotus and is the leader in projects to customize ALDIN solutions for the national and international market.
THE COMPANY
Where are we
With manufacturing headquarters in the city of Lages, in the mountainous region of Santa Catarina, we at Lotus Química serve customers from all over Brazil, in addition to having started exports to Latin America in 2021 and our expansion plan to the northeast.
THE COMPANY
Integrated Management System for Quality and Environment
Provide quality chemical products for the pulp and paper market, promoting customer and employee satisfaction through management focused on sustainability, personal development and environmental responsibility.
Objectives of the Integrated Management System:
1. Provide quality chemical products for pulp and paper manufacturing;
2. Promote customer and employee satisfaction;
3. Cultivate sustainable actions;
4. Promote the personal development of employees;
5. Act with environmental responsibility.
For 20 years, through chemical inputs, we have brought greater efficiency, reliability and environmental responsibility to companies in the pulp and paper sector. Good quality practices have always been carefully applied in the company. Document management, control and treatment of non-conformities, audits, monitoring of performance indicators, training and development of professionals have been fundamental pillars for over a decade.

At the beginning of 2022, we obtained extraordinary results in an external audit and were certified in the ISO 14001:2015 and ISO 9001:2015 standards by the certifier QMS Certification Services.

In this way, we were able to prove to the entire market our strictest controls and demands for excellence in our Environmental Management and Quality Management Systems.

However, much more important than being able to prove our excellence in management, these certifications represent for our team the improvement of methods and good practices that underpin innovation and sustainability, and thus ensure that we continue to exceed the expectations of our customers and business partners.
Certification in ISO 9001:2015 and ISO 14001:2015 standards by QMS Certification Services:
The Company